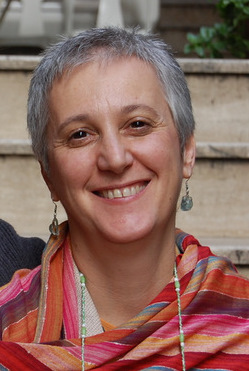 A lifelong Unitarian Universalist, Laurie has spent 35 years as a weekly community newspaper publisher.  Realizing that it was a large community ministry after 27 years, she attended Starr King School for the Ministry and earned her in MDiv in 2010.
She served the Upper Delaware UU Fellowship, a small lay-lead congregation in the Upper Delaware River Valley as a consulting minister for 12 years.  A Candidate for UU Ministry, she recently completed a year as the Intern Minister at Quimper UU Fellowship, a congregation of 350 members and 200 friends on the tip of the Olympic Peninsula in Port Townsend, WA.  She attended the 2014 Annual Sino-American Summer Process Academy as a Research Fellow with the Institute for the Postmodern Development of China.
Click here to read
Laurie's most recent
Open Line column.
Laurie is a felt maker, plays a 12-string guitar and a Reverie Harp, and enjoys blending the spoken word with music and artistic expression. She is the recipient of numerous community awards that celebrate her collaborative work that helps to foster communication and identify goals, values and mission.
She will serve as the 1/2 time Transitional Minister until June 30, 2017.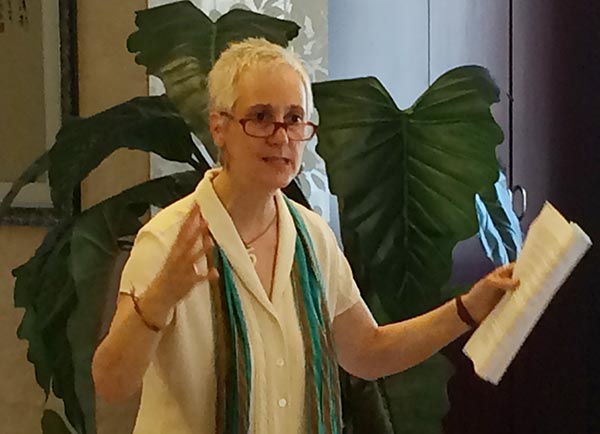 I am in the living room with a cup of coffee. Instead of my habituated reading of the morning news, I turn to "Glorious Women," a book that was given to me as an ordination gift from my mentor the Rev. Nancy Arnold.
"Glorious Women" is a collection of Unitarian Universalist sermons about women and the experience of being a woman. These sermons were entered into the annual sermon contest sponsored by the Ministerial Sisters Unitarian Universalist (MSUU) organization. The MSUU organization was formed in 1974, when three UU women ministers, looking for collegiality in a male-dominated system, pooled their resources to change gender politics in UU ministry.
And to set the context for the sermons, a short introduction chronicles the changes that occurred in the denomination, specifically through the lens in gender relations.
For as much as I knew the basic trajectory of Unitarian Universalist history—we merged in 1961, the lighting of the chalice as a symbol emerges sometimes in the '80s along with the seven principles in 1985—I appreciated reading the history through the lens of the experience of the women ministers. I became reacquainted with the history of women who sensibly and relentlessly addressed inequality and advocated for equal access to serve congregations and ministry in general. There's something in that story of resistance that opens a sense of possibility.
And with this brief immersion, I am considering the power of reflection, especially as our world continues to become unhinged. Especially as it seems that activities and the onslaught of information is coming more and more rapidly.
So in the spirit of reflection, I offer that it's been a good month at South Nassau UU Congregation. It feels like our work is focused. We're looking at congregational life through a lens of mission.
Here's some additional highlights:
— We're making good on our intention to host more family events, as the RE Program hosted a Family Movie Night on November 19. The watching of the movie of UU Christopher Reeves informed the November 20 Whole Congregation sermon. (This is holding up our UU values that we find meaning in our everyday experiences.)
— The holiday fair, chaired by Rita Hines with Veronica Underhill as understudy, was a success on the day as well as supporting leadership development and succession planning for annual Ways and Means fundraisers.
— The Membership Committee has identified eight potential members who may join the congregation in its annual membership drive.
— The Social Action Exploration Committee and members of the Board met with members of the Muslim Society of Long Island in a preliminary meeting to establish a relationship between the two congregations. Additionally, SNUUC participated and help plan a UU Social Justice Roundtable meeting on December 5 to strengthen and explore collaboration between Long Island UU congregations around Social Justice.
— The building was made festive with an experiential service, supported by the Worship Associates and the Worship Committee, on December 4 pointing to the living nature of our faith and its ability to create new traditions.
— A subcommittee of the Board has finalized the congregation's application for a Developmental Minister for the 2017-2018 congregational year, which is the outcome of a successful transition ministry.
And, the Improv Group hosted a show on November 19, a group caroled at the South Shore Nursing Home on December 8, congregants went on the annual holiday trip to Hick's Nursery ....
This congregation is truly amazing. How fortunate we all are to be a part of its resurgence and welcoming spirit in the world!
And finally as we move into even deeper reflection on the upcoming holiday of light and good will, my hope is that there will be moments of great peace and contentment in the small precious nature of our lives and all that we share together.
Wow! Now for a second cup of coffee!
Laurie Stuart, Transition Minister