Come visit!
We welcome you and your family, whatever your religious background,
ethnicity, color, sexual orientation, gender expression, family structure,
income, or abilities may be.
Please join us!


Click here to read our RE's column in this month's newsletter
REMEMBER: Register your children on-line at SNUUC.org or in person on Sunday. Click here to register your child today!

Welcome to the 2016-2017 Religious Education program at
South Nassau UU Congregation!

"A life is not important except in the impact it has on other lives." - Jackie Robinson
On April 15, Major League Baseball honored one of the greats, Jackie Robinson, who as the first black man to take the field in a regulation game Every player in Major League Baseball wore Jackie's number; I followed my yearly tradition of donning my Met jersey emblazoned front and back with the number 42. Not just because of his incredible feats on the baseball diamond, which were prodigious, but most importantly because of his work for the betterment of our country. Robinson's character, his use of nonviolence, and his unquestionable talent challenged the traditional basis of segregation which then marked many other aspects of American life. He influenced the culture of and contributed significantly to the Civil Rights Movement. He was also the first black television analyst in MLB, and the first black vice president of a major American corporation. In the 1960s, he helped establish the Freedom National Bank, an African-American owned financial institution based in Harlem, NYC. In recognition of his achievements on and off the field, Robinson was posthumously awarded the Congressional Gold Medal and Presidential Medal of Freedom.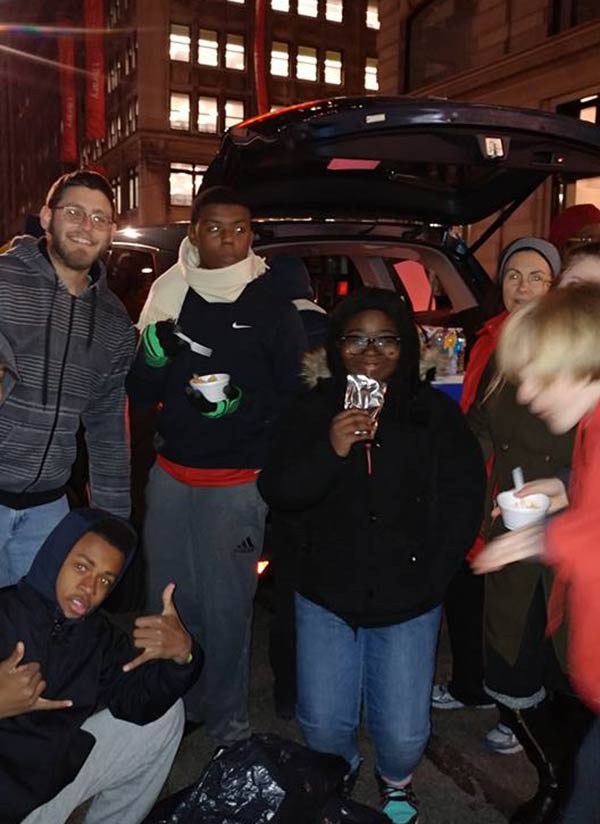 As we enter the month exploring the theme of embodiment, I would like to share a passage from Jackie's autobiography that makes his embodiment of the values of equality for all of us manifest.
"Everything I ever got I fought hard for but I know that I haven't got the right to say truthfully that I have it made. I cannot possibly believe that I have it made while so many of my black brothers and sisters are hungry, inadequately housed, insufficiently clothed,denied their dignity as they live in slums or barely exist on welfare. I cannot say I have it made while our country drives full speed ahead to deeper rifts between men and women of varying colors, speeds along a course towards more and more racism.
Life owes me nothing. Baseball owes me nothing. But I cannot as an individual rejoice in the good things I have been permitted to work for and learn while the humblest of my brothers is down in a deep hole hollering for help and not being heard.
That is why I have devoted and dedicated my life to service. I don't like to be in debt and I owe... and I still feel I owe- till every man can rent and lease and buy according to his money and his desires; until every child can have an equal opportunity in youth and manhood; until hunger is not only immoral but is illegal; until hatred is recognized as a disease, a scourge, an epidemic, and treated as such; until racism and sexism and narcotics are conquered and until every man can vote and any man can be elected if he qualifies - until that day Jackie Robinson and no one else can say he has it made."
I saw Jackie Robinson play 2nd base with the Brooklyn Dodgers and I'm told he stole 3 bases; totaled 3 RBIs and made a highly memorable catch. I remember nothing of this except really needing the bathroom on the long ride home to Massapequa but I do remember when I heard him speak during in a highly charged political campaign in 1964. With simplicity and elegance he laid out the reasons why America must address our heritage of white, male supremacy. It marked my first epiphany on race; recognition of what we today call white privilege. And it changed me forever.
Thank you, Jackie.
The lesson for us - it does not matter what you work at as long as we develop the capacity to embody - to truly integrate into our lives - the values we cherish.
Harriet Arnold, RE Coordinator


♦ realize that they are moral agents, capable of making a difference
in the lives of others, and in the health of our planet.
♦ feel safe & free to form their own answers to life's great religious questions. ♦ become familiar with, and show respect for, history and wisdom of other religious traditions.
♦ recognize the importance of community, the importance of families of all
kinds, the importance of relationships among generations.
♦ experience joy, awe, and gratitude in response to life's gifts...and find hope
and healing in the face of life's challenges.
♦ appreciate the religious heritage of Unitarian Universalism, and feel at home
and among friends in this faith community.
Parental Responsibilities and a Covenant Between Us
Our RE ministry is a cooperative of parents who make common commitments for the mutual benefit of all children and youth. These include:
♦ Striving for consistent attendance, which demonstrates that the congregation and faith are important. Building trust and friendship nurtures our common life.
♦ Showing our commitment to South Nassau UU Congregation by making a financial pledge for the year.
♦ Staying informed by reading the Open Line, the Wednesday eblast and emails from the RE program.
♦ Working out a schedule to volunteer in the program (average of 2 hours a month is requested).
This is essential to our program, and we thank you. We know how busy all parents are!
♦ Remaining in the building while the children are in educational programming and picking them up when the program time has ended.
♦ Providing timely feedback (both positive and constructive) in order to help assess and improve the program.
♦ Offering each other mutual support and encouragement as we strive to live within the covenants of SNUUC and move as UU parents toward spiritual growth in our homes.
Unitarian Universalist Principles
We are a covenantal faith community with NO creed to which members must subscribe.
We convenant, however, to affirm and promote the following principles:
♦ The inherent worth and dignity of every person;
♦ Justice, equity, and compassion in human relations;
♦ Acceptance of and encouragement for one another as we work toward spiritual growth in our congregations;
♦ A free and responsible search for truth and meaning;
♦ The right to apply conscience and the use of the democratic process within our congregations and in society;
♦ The goal of world community with peace, liberty, and justice for all;
♦ Respect for the interdependent web of all existence, of which we are a part.
Sources of the Living Tradition
In pursuit of these principles, we draw wisdom from the continuously revealed sources named below:
♦ Direct experience of that transcending mystery and wonder, affirmed in all cultures, which moves us to a renewal of the spirit and an openness to the forces which create and upholdlife;
♦ Words and deeds of prophetic women and men. These challenge us to confront powers and structures of evil with justice, compassion, and the transforming power of love;
♦ Inspired wisdom from the world's religions which helps guide us in our ethical and spiritual lives;
♦ Jewish and Christian teachings which call us to respond to God's love by loving our neighbors as ourselves;
♦ Humanist teachings which counsel us to heed the guidance of reason and the results of science, and warn us against idolatries of the mind and spirit;
♦ Spiritual teachings of earth-centered traditions which celebrate the sacred circle of life and instruct us to live in harmony with the rhythms of nature.
"I wanted to change the world. But I have found that the only thing one can be sure of changing is oneself. ". - Aldous Huxley
Happy New Year to us all! As we begin this new year, we in the RE will continue to explore our Unitarian Universalist history and values. We have all gained a better understanding of the miracles we experience every day through our study of them as well as a keen recognition that science and faith and human goodness all work together to create what we call miracles.
For the second semester, we will be using a Tapestry of Faith curriculum for our youngest and junior congregants. Through it, they will discover what duct tape, a hard hat, sandpaper, and a magnifying glass have to do with religious education. Those are some of the real tools that we will use in the Toolbox of Faith program as symbols of the tools we use to be Unitarian Universalists. For example, we will use duct tape to reflect on being flexible in our faith; we will use a hard hat to represent being resilient in our faith; and we will use sandpaper to illustrate how to smooth out rough spots with humor in our faith. Welcome to the Toolbox of Faith program!
In addition to using the ToolBox, we will also explore the same monthly themes that are being used in the adult congregation. Our Senior RE Congregants will all share the pulpit on January 29 with their service that reflects this month's theme of Prophecy. Mark it on your calendar as they will surely provide their own perspective. The younger groups will also explore prophecy, primarily as it relates to each person and the concept of New Year resolutions as self-fulfilling prophecy. They will look at the quote by Aldous Huxley that precedes this month's column and discuss the truth of his statement. Huxley was a Universalist and is another great philosopher who shares our UU values.
As you each explore the meaning of prophecy in your own life, please consider that teaching RE or working with our youth at Cons or on social justice projects can be a way to ensure that the future will include people who share the UU principles we espouse. Participating in our Religious Education program is one of the few ways you can impact how our country and our world will evolve. It is a small time commitment, two Sundays a month, but it repays the time and effort tenfold as you see firsthand how our young people express their passion for a just and kinder world.
It all begins with U! And even if you cannot volunteer, please come back and see the River Mural and all our other art work.
Our next family night is scheduled for February, and it is a big surprise for all you wonderful parents. Check the "News You Can Use" in Wednesday's e-mail for details.
As we enter a time of political uncertainty, let our beautiful young people inspire us all to create a world of which we can be proud!
Harriet Arnold, RE Coordinator